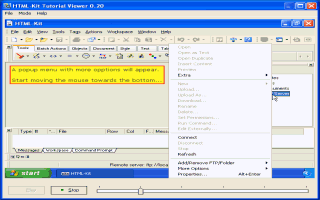 HTML-Kit Tutorial Viewer is a new addition to HTML-Kit that makes it easier to create and view audio/video tutorials and quick presentations.
Only a handful of tutorials are available for viewing at this time. More video tutorials about how to use HTML-Kit and plugins should appear in the future.
The same interface can also be used to edit tutorials. If you're interested in creating small tutorials, even one or two step tutorials, grab a copy and jump to the "Mode" menu.
1. Download the hkTutorialViewer Setup (1.28 MB, beta version 0.22)

2. Close HTML-Kit and run the downloaded hkTutorialViewerSetup.exe file.

3. Once HTML-Kit is reopened, click the hkTutorialViewer icon on the "Help" tab.