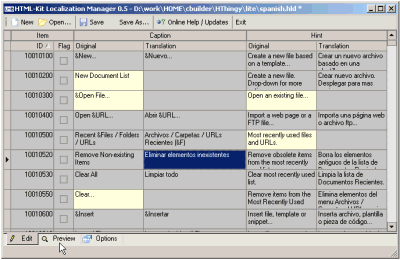 HTML-Kit Localization Manager is an utility designed to make it easier to translate HTML-Kit menu items. It streamlines the process by handling special characters, generating the XML data files and making it possible to preview the translated menus in real-time.
Create and manage HTML-Kit Language Data Files.
Test translated menus using the instant Preview window (without opening HTML-Kit).
Jump back to translations specific to the menu option selected in the Preview window.
Automate special characters to entities/UTF-8 conversion.
Easily track new/not-yet-translated items using the color coded fields.
Tag translated items for review.
Resize and sort edit windows.
Fields for entering author information, language names/codes and the Updated On information.